Dr. Jeff Brooks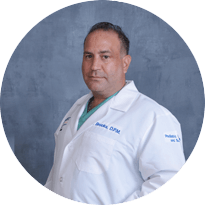 Dr. Jeff Brooks
Dr. Jeffrey Brooks is a board-certified Podiatric Medicine physician who provides the highest quality of medical care to patients of all ages in the Northern San Diego area. He is known for his compassionate care, attention to detail, and his unrelenting dedication in delivering focused and empathetic care to all his patients. He is highly skilled, and extensively trained in addressing all podiatric medical disease processes ranging from traumatic sports injuries, foot and ankle reconstruction, chronic foot pain, and diabetic foot care.
Dr. Brooks earned his bachelor's degree in Physiology and Neuroscience from University of California San Diego. He completed his medical degree from the College of Podiatric Medicine and Surgery in Des Moines and received his surgical residency training from Drexel University in Philadelphia.
Dr. Brooks is a member of numerous professional organizations, including American Podiatric Medical Association, the California Podiatric Medical Association, San Diego Podiatric Medical Society, and the American College of Foot & Ankle Orthopedics and Medicine.
Click on the button below to listen more about the Dr. Brooks.